First things first, we want to say that we had a great time at the conference and that this was a great opportunity to assess the competition network. It was great to be able to attend conferences again (in person) and it almost felt "normal"!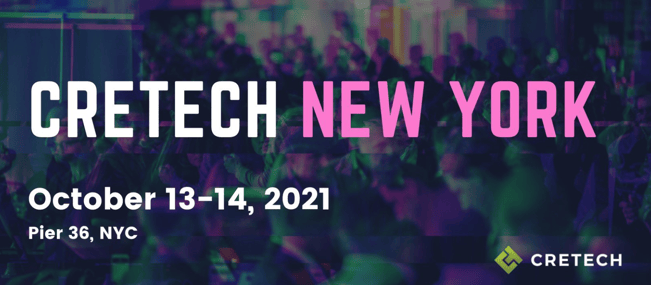 We saw a lot of exciting booths, heard a lot of great pitches/panelists, and got a lot of cool swag (shout out to HqO for crushing the swag game)! But most importantly, we learned a lot — about what tech solutions people are looking for, what has worked and what hasn't, potential trends in CRE investments, and much more. Here are a few of our key takeaways from the CRETech Conference.
Investment Trends
A major trend in Commercial Real Estate investing has been with ESG (Environmental, Social, Governance) initiatives.
These initiatives are not new; they have been in momentum for a while due to their long term benefits that attract investors. However, the idea of sustainability has driven a lot of recent investment decisions within CRE.
ESG initiatives are seriously focused on the environmental side. From carbon neutral buildings to smart buildings, investors have ambitious goals for the near future and tech plays a large role in reaching these goals (healthy buildings will benefit greatly from technological advances).
However, the social aspect is also starting to gain attention with investors; there are more investors interested in investing in typically overlooked communities and the more vulnerable populations.
The pandemic has also shown an increased concern regarding health and wellness — tenants want reassurance now more than ever. Some examples of how investors are approaching this trend is through smart buildings (that show when everything was last sanitized, what appliances need repairs/sanitation, and more), different apartment amenities to accommodate for working at home , etc.
Consumer demands had shifted with the pandemic and the CRE industry has had to be flexible in order to address these changes.
Tenant experience has increasingly become a concern with more and more investors keeping it in mind going forward.
COVID has accelerated some investment trends and brought out a few more. While some trends may last longer than others, the pandemic has proved that flexibility/adaptability is key to surviving, especially in uncertain times. Finally, an investment trend that we can't not talk about... technology.
Tech Trends
We know we've said it before... Commercial Real Estate has been slow to adopt technology.
Some commercial real estate software trends that we have seen emerge are platforms focusing on data (such as data management and data analytics) or the market in general.
A few panelists at the conference think that tech solution platforms would pick up traction if firms knew which ones they needed. But be warned. These industry experts think it will likely be at least 10 years before CRE tech really picks up. This is a long adoption process for the CRE/Multifamily industries but it's better to start early than late.
There is a large tech market and firms don't exactly have the resources to dig into which ones are best suited for their needs — they typically have a low technology budget and not enough time to do research. Developing clear ROIs makes it easier for firms to determine which tech solutions would help them manage and grow.
However, the adoption process is not the only hurdle.
Another roadblock that may make investors hesitant in real estate software investment is the adjustment period. It takes time to input all of your information and time to learn how to use the software. But this is necessary if you want to fully utilize your investment.
Implementing tech into every day processes is only valuable if commercial real estate professionals actually use the platform. This means it's necessary to grant access to all team members and teach them how to use all of the features, or even using the platform often enough to justify the cost.
While you may be hesitant to adopt tech because of the effort necessary in the initial stages, it is likely to pay off in the long run. Everyone is looking for tech that provides long term solutions but only some are willing to bear the burden of the short term.
Questions to Ask When Shopping for Software for Commercial Real Estate/Multifamily
It's important to identify your company's main pain points and then seek a software solution. You will have several company specific questions arise while weeding out what software will be a good fit for you, but to get you started, here are a few questions that you need to ask when considering new software.
What property types does their property management software best serve?
Where are your potential technology picks in their product journey? Are they in concept? Beta? Or are they fully functioning software?
What is the software company's long term plan for innovation?
What does the onboarding process look like? Does it require a lot of your resources or is it fairly turn-key?
Do they provide ongoing product support for your team? If so, how?
The pandemic has highlighted the need for flexibility, convenient data access and ease of collaboration. Technology is trying to satisfy that need. While the new normal may not look like what we're used to, these changes will be positive and make the CRE and Multifamily space stronger. We'll keep an eye out for more trends/predicted trends and will keep you updated!
Have questions about CRE/Multifamily SaaS? Email us at theboss@loanboss.com.
Check out our website to learn more about our debt management software!