Would you rather return to the office or work at home? Survey shows… a mix of both! Or rather, anything – as long as it's not a full return to the office. The alternative? Quitting their jobs.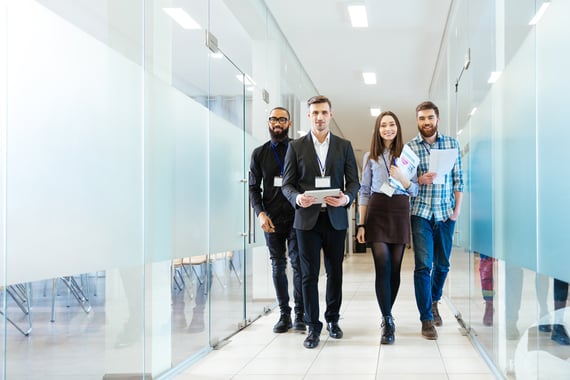 As more companies require employees to return to the workplace, one key trend that is occurring in many offices is the rise of the hybrid office.
While a lot of benefits were seen from workers who worked completely remote, like improved productivity, less time spent commuting, and improved work-life balances, many professionals noted some negative effects as well. These effects included feeling disconnected from their colleagues, missed unstructured opportunities to collaborate with coworkers, and difficulty in building and maintaining a company culture.
The majority of workers prefer a hybrid model, working remotely at least 3 days a week. According to an online survey from Breeze, 65% of workers whose jobs can be fully conducted at home are willing to take a 5% pay cut to remain remote. Others are offering to give up PTO or to increase their hours overall.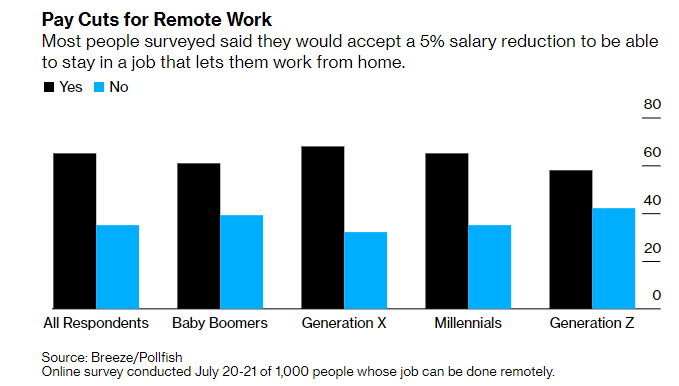 Around a third of those surveyed said that they would quit if they aren't offered a hybrid model.
Millions have lost their jobs due to COVID and the great resignation. And it's possible that employers risk losing more workers and potential talent if they ignore their preferences, forcing them back into the office.
Despite the concerns from remote-only work, productivity and engagement have remained high with work from home and collaboration remains an integral part of company cultures.
The last year has felt like we have truly been able to do the best work of our lives for the first time, unconstrained by the challenges that daily commutes to offices and in-person co-located offices themselves inevitably compose.

-Petition from Apple employees to Tim Cook
Firms argue that working in-office presents 2 major advantages: supervision and informal interaction. This benefits the newbies the most as working in the office presents more opportunities to learn quickly and advance — probably why Gen Z were among the most willing to return, albeit not fully.
Informal interactions not only promote company culture and better connections throughout the team, but they also allow the newbies to learn through observation and context (or as some like to say, "learning by osmosis").
One big perk from interacting with more experienced members of the firm is learning the lingo. Because let's face it, jargon is confusing, no matter what industry you're in.
Being in person also makes it easier to catch mistakes. While supervision is mainly used by firms to determine effort from employees, it's also a good way to learn and fix your mistakes. Being in person also means you have access to all necessary information (centralizing your data is important!) and can prevent misinformation.
Read more on Why You Need Centralization.
Real estate and facility costs also influenced executives in their post-pandemic work model decision with 38% of executives citing these as a "very important" factor. Office vacancies are higher than they've been in almost 3 decades and investments are slowing down, especially in popular metropolitan areas; NYC office vacancy has risen 11.3% in the last year alone.
Companies are starting to embrace the concept of the hybrid office for a post-COVID to try and get the best of both experiences.
The Hybrid Office
A hybrid office is one that is built to support a mix of both remote and in-person employees. The greatest benefits of coming into the office for most white-collar workers was the ability to interface with their coworkers. The hybrid office tries to address this by maximizing collaborative spaces for employees to work together in.
This setup is intended to allow employees to make the most of their workday regardless of where they're working that day. This can help you retain talent at a time when rates of burnout and job dissatisfaction are high. It also makes your company more appealing for prospective employees.
So what makes a hybrid office?
Fewer desks, more common areas
If the primary benefit of the office is to create more opportunities for face-to-face interaction, then the best way to accommodate this for workers that won't be in the office every day is to provide those workers with the communal areas they need to meet and organize.
The office of the future will need to be able to be more agile and able to change based on the demands of a work day. This includes things like reconfigurable furniture that can quickly reorganize a room from several private work spaces to a conference room, or areas dedicated for quiet, heads-down work. Some employees may no longer have assigned desks, instead having shared "pods" to retain some sort of a home base.
Health and Wellbeing
In a post-pandemic world, many people are much more conscious about health and cleanliness than before. This means that accommodations will need to be made for workers who no longer have assigned desks to keep personal belongings, which tend to accumulate on desks. These kinds of changes could include lockers or team shelving to store personal items, so that the team can still retain a feeling of belonging.
Technology
Tech advances to help connect in person and remote staff have accelerated in the COVID-19 world. Several tech companies have pioneered the use of elaborate conference rooms with curved tables, projection equipment, and specialized mics to help bring people together. Google has included the use of privacy robots with expanding cellophane walls. It remains to be seen whether this is the office of the future or just an expensive experiment, but one is for certain, the office is changing.
The Hybrid Model
Whether we return to the office fully or partially, we will never reach the pre-COVID status quo.
While the office sector may not love the idea of work from home (for obvious reasons), the residential sector is eating it up.
We're seeing record low vacancy. Wages are up, people have the money. And people are saying take my money, I want to move in.

-Jay Parsons, deputy chief economist (RealPage)
Many multifamily firms are capitalizing on this shift and have adapted to an influx of work from home employees by introducing work friendly amenities. Think common spaces that include conference rooms you can reserve, free Wi-Fi, and office supplies people don't normally have anymore like printers.
This is especially true for smaller cities with a lower cost of living (a.k.a. where many remote workers are flocking to). Remote work is enabling families to relocate to more affordable areas.
The second quarter of 2021 saw the biggest annual rate increase in U.S. history with occupancy at 96.5%, matching the previous high from 2000. New leases have also increased by 14.6% from 2020 and landlords are responding to this high demand by increasing rent.
The only conclusion that we can come to is that the office of the future is going to look very different from the gray cubicles of old. It probably won't be the norm for robots to throw up privacy walls for you anytime soon, but only coming into the office a few days a week to a WeWork style workspace might be here sooner than you think.
Hybrid work may not be new, but it may be the new norm.
We want to hear what you think!
Email us at theboss@loanboss.com
Stay in the loop and read more industry insights!